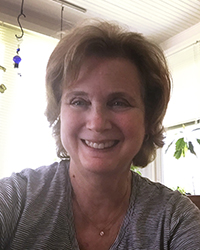 Linda Bowser started working at Bright Raven in 1975 as the dance instructor. She was a co-owner of the gym from 1976 through 1988 when her daughter was born and Kathy King, Bright Raven's current owner took over. Linda now works primarily in the office but has worked in many capacities at the gym over the years – from coaching all levels of gymnasts – preschool to team, to office manager. Linda holds a bachelor's degree in Dance from SUNY Brockport and is permanently certified to teach elementary education. She is a long-time member of the National Association of Women's Gymnastics Officials and still enjoys judging gymnastics occasionally.
---
Brian Cannon is 20 years old and has been going to Bright Raven since he was 9. His favorite event is high bar. As a coach, he mainly works with the recreational boys' classes. Brian is currently attending RIT to become a Physician Assistant. He enjoys camping in the Adirondacks and being outdoors.
---
Justin is 16 years old and has been at Bright Raven since 2008 starting at age 4. He works with the Mini Olympians, boys' class, and level 3 boys. Justin has been competing gymnastics since 2010. His favorite event is floor. In 2018, he was the national champion. He hopes to pursue NCAA Division I College gymnastics after high school.
---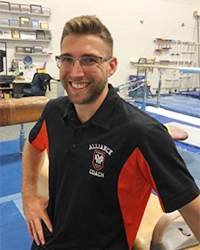 Garison is 27 years old and started at Bright Raven in 2018. He graduated from Syracuse University with degrees in Aerospace Engineering and Engineering Management & Entrepreneurship. Originally from Connecticut, he competed JO gymnastics for approximately 10 years, then competed college gymnastics at SU for 4 years. There he helped create the men's college team, the New York Alliance, with whom he competed with for 1 year and am currently the head coach. He works with all boys' and girls' teams, and the Ravens at Bright Raven. His favorite event is parallel bars.
Garison is the head coach of a men's college gymnastics team called the New York Alliance. The New York Alliance allows gymnasts to pursue a college education anywhere in the Rochester, NY area while training and competing as one team at the NCAA & GymACT level. "We are the only program in the area to provide opportunities like this!"
---
Bill "Cos" Costner has been coaching for 37 years and has been at Bright Raven since 1992. He coaches the Optional Team at Bright Raven. His favorite events to coach and compete are floor and vault. He competed Class 3 Gymnastics (similar to Level 7-8). His final meet was an AAU National Meet. Cos graduated from SUNY Polytechnic Institute, Utica with a bachelor's degree in Electrical Engineering. A fun fact about himself is that his coach taught him a double back on the trampoline (spotted) before he had a round off back handspring back tuck by himself!
---
Brian Daly is 43 and has been at Bright Raven since 2013. He works with a variety of levels on the girls teams. His favorite gymnastics event is bars. He competed gymnastics while in high school.
Brian has a bachelor's degree in Secondary Science Education and a master's in Earth Science Education from Buffalo State College. Currently, he teaches science at Barker Road Middle School in Pittsford, NY.
---
Nate Daniels is 27 years old and has been a part of the Bright Raven family since 2003, starting at 10 years old. He was on the men's competition team for about 7 years. At the gym, he works with all ages and teams but mostly coaches the recreational classes. Nate's favorite event growing up was floor because as soon as you learn to flip it basically feels like you can fly. He went to college for 2 years at MCC and 2 years at SUNY Brockport, graduating with a bachelor's degree in Kinesiology. One fun fact about him is that he also played baseball for 13 years.
---
Charlie is 26 years old and joined the Bright Raven family in 2019. He has worked full-time as an engineer for 4 years but has been coaching gymnastics part-time since high school. That's over nine years of coaching experience. Charlie usually coaches the Mini O's, Girls, Advanced Girls, Novice and Tumbling classes. His favorite event is floor because it has the most flips! A fun fact about Charlie is that "Once, when I was five, my family and I went to McDonalds. My order was taking too long so I snuck into the kitchen and asked the cook, 'Where's my hot dog?!'"
---
Jeanne de Keyserling is a National rated USA Gymnastic judge for both men and women and has been a coach with Bright Raven Gymnastics for 15 years. She has an all-around expertise of the sport and enjoys passing that knowledge on to students and coaches. Jeanne is a source of knowledge in the gym and uses her positive attitude and tireless energy to encourage others to work hard and succeed.
She started gymnastic training at the age of 6 with Hamburg Gymnastics and has used that training throughout her life. In college she was employed as a sports model for the photography department. Upon graduation she joined Ringling Bros Circus performing an aerial routine on the Spanish Web. After the circus, she coached aerial skiing for the freestyle team at Kissing Bridge Ski Resort. In the early 90s, she went back to the gym and started coaching girls and boys the sport she knows so well. She became a USAG judge in 1994.
Jeanne has many interests but loves to spend time at her summer cottage on Sand Lake, Ontario, Canada. Of course, there is a pit trampoline on the beach.
---
Christine Dysart Field started at Bright Raven in 1974 and became part owner from 1976 until 1988. She continued coaching until 1996 when her husband became disabled. She returned in 2009 as a coach when her granddaughter, Emily, showed an interest in gymnastics. Christine retired from the Churchville – Chili School District where she taught Physical Education, coached the Varsity Gymnastics Team, and served as the Professional Development Coordinator. She was a former high school and collegiate gymnast. Christine has also served the gymnastics community as a USAG and high school gymnastics official and has earned numerous awards related to the field of gymnastics including Section V Coach of the Year and the Ed McCall Judges Service Award. Always interested in challenges, Christine biked 100 miles in one day in 2014, ran the 2016 NYC Marathon and climbed and reached the summit of African Mt Kilimanjaro in 2019.
Christine and her granddaughter, Emily, will be the first grandmother (alumnus) and granddaughter combo to be a part of the Golden Eagle Women's Gymnastics Team at SUNY Brockport.
---
Bailey Fogle has been a coach at Bright Raven since 2017. Originally from Maryland, she completed her bachelor's degree in Environmental Science at SUNY Brockport. At Brockport she continued her passion for competitive gymnastics at the college club level for all 4 years. As a previous Level 9 gymnasts in high school, Bailey excelled on the club team competing in various local and national meets. Bailey loves the ability to share her love for gymnastics to the athletes at Bright Raven.
---
Julianna Gatto is 23 years old and has been at Bright Raven for almost 17 years now! She started in 2001 when she was 4 and competed until she graduated high school. She has been coaching the recreational classes since 2013. Julianna's favorite gymnastics event to both compete and watch is floor. She is currently studying Physical Therapy at Nazareth College and will be graduating next May 2021 with her DPT! One fun fact about her is that she is partially fluent in Italian & studied abroad in Italy in the summer of 2017.
---
Addi Glozer is a student at Spencerport High School. She started doing gymnastics at Bright Raven in 2005 when she was two years old. She was on the competitive team before she started coaching in 2017. Addi primarily coaches Mini Olympians and loves seeing all the smiling faces at the gym!
---
Amber is 24 years old and has been a part of the Bright Raven family since 2018. Originally from Connecticut, she moved to NY to work at Bright Raven. She competed NCAA Division II gymnastics at the University of Bridgeport in Connecticut. She graduated with a bachelor's degree in Fire Science/Arson Investigation. Amber's favorite event to compete and to coach is bars. Currently she coaches bluebirds, compulsories, optionals, and Xcel. "I am so happy to be a part of the Bright Raven family!"
---
Karen has been working full time at Bright Raven since 2005. She is born and raised in Long Island where her love for gymnastics began at 4 years old. After her competitive years of gymnastics, she began coaching always keeping the sport a constant in her life. Karen graduated from SUNY Brockport with a bachelor's degree in dance. Karen never thought about making a career out of coaching but says she quickly found a home at Bright Raven and the rest is history. Karen loves sharing her passion and enthusiasm for gymnastics with all the children she coaches. "I'm so proud to be a part of the Bright Raven family and I cherish the memories and lifelong relationships I've made through the years!"
---
Carly King has been a part of the Bright Raven Gymnastics family her entire life. She looks back fondly on a childhood in the gym, and from that point forward, her love of gymnastics has grown. She began gymnastics in the year 1996, and competed as a Bright Raven gymnast from 2003-2013, reaching Level 9 during her senior year of high school. Vault and floor were her favorite events while competing.
Carly graduated from Churchville-Chili High School in 2013 and then began study at Nazareth College of Rochester. In 2017, she received her Bachelor of Health Science degree, with a minor in psychology, and in 2019 she completed her graduate work to receive her Doctorate in Physical Therapy. She now works as a physical therapist at Rochester Hearing and Speech Center, specializing in pediatric physical therapy. Carly has been a coach at Bright Raven for 10 years, and enjoys working with gymnasts of all levels, though she mostly works with kids in the recreational classes. The Mini Olympians class is her favorite group to teach at Bright Raven. She can't wait to get back to coaching, both at the Gates and Victor locations!
---
Karl Jaanimagi is 39 years old and has been the Head Boys Team Coach at Bright Raven since July 2015. He has a bachelor's in Aeronautical/Mechanical Engineering from Rennselaer Polytechnic Institute (2001). He also has a master's in Secondary Science Education from SUNY Brockport (2007). Karl competed as a JO athlete, for his high school team, and in college as a club gymnast from 1989-2007. His favorite events are Parallel Bars, Pommel Horse, and High Bar.
Karl coaches all boys team and pre-team training groups, trampoline classes, and assists with girls' team on uneven bars at Bright Raven. On top of that, he is also the head coach of the SUNY Brockport club gymnastics team and has done so since 2012.
Karl is incredibly involved in the gymnastics community and has received several awards. Some of his involvements include being a nationally certified Men's Gymnastics Judge since 2001, the Upstate New York Men's Gymnastics Judges assigner since 2011, the New York Alliance Assistant Coach / Technical Advisor since 2015, and the New York State Elite Camp Program Coordinator since 2019. Karl is a two-time NYS Boys Gymnastics Service Award Recipient; once in 2006 and another in 2012. He was USAG Men's Collegiate National Coach of the Year in 2013 and NYS Boys Gymnastics Coach of the Year in 2016.
In his spare time, Coach Karl enjoys trail running, hiking, backpacking, kayaking, and generally spending time outdoors.
---
Kevin Kirkland has been a coach at Bright Raven since 2005. Growing up he was a competitive gymnast for Bright Raven, finishing his competition years as a Level 8. Kevin has experience coaching boys and girls recreational and team levels as well as, most recently, the Raven Warrior programs. As head coach of the Raven Warrior groups, he loves being able to incorporate gymnastics principles of strength and balance into the new recreational sport of Ninja Warriors.
---
R.J. LeClair is 48 years old and has been with Bright Raven since 1995. Most of his time has been with the Optionals, however he has worked with every level of team. His favorite event has always been vault. RJ graduated from Brockport with a bachelor's in communications and achieved his master's from Roberts Wesleyan in elementary education. He played football and ran track but now his passion is weight lifting. One fun fact about RJ is that he never did gymnastics. "I didn't know anything about it when I started at Bright Raven. 'Cos' taught me everything I know."
---
Maddie Maas is 17 years old and in the Fall of 2020, will be starting her first year in the Doctorate of Physical Therapy Program at Ithaca College. She started at Bright Raven in 2007 and has been there for 13 years. She works with the Mini Olympians and is currently on the Optional Team. Her favorite event is beam.
---
Colleen Merchant has worked for Bright Raven since 1993, and prior to that, was a gymnast there from 1978-1988. She attended West Virginia University, where she coached in a recreational program throughout college. Currently, she works with the Xcel team but has coached compulsory and optionals in the past. Colleen loves coaching and making a difference in each of her student's lives. She hopes they take away the love of the sport that she has carried throughout her life.
---
Jody Micoli has been coaching with Bright Raven since 1997. She currently works with the Optional Team coaching floor and beam. She has been the Optional Team choreographer for about 15 years. Jody graduated from the University of Buffalo with a degree in environmental design and a minor in architecture. She was a gymnast for 13 years and competed Level 8, high school and college club gymnastics and competed in the Empire State games. Her favorite event to coach is floor.
---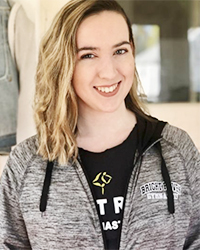 Christy has been with the Bright Raven family since 2001. She started in Mini Olympians and went on to compete for four years. She works with the recreational classes, from Mini O's to Pre-Team. Her favorite event is beam. When she is not coaching, Christy enjoys practicing aerial silks and trapeze.
---
Shania Sonneville began with Bright Raven in 1999 and continued until 2005. She then came back again in 2017. She was a competitive Level 10 gymnast through college at SUNY Brockport. She coaches compulsory Levels 3-5 and Ravens. She is also a licensed massage therapist and specializes in muscle maintenance and care for athletes.
---
Christine has been teaching dance for over 20 years at local dance studios, daycare centers and for a few years in Japan. She started with Bright Raven in 2011. She works with the competitive team as a dance, beam and floor coach. Her children attend Bright Raven, one on the competitive team and one as a recreational student. She enjoys watching them and all the students she works with achieve their goals.
---
Chris is 29 and has attended Bright Raven from ages 9-13 and has helped coached since 2019. He works with the Raven Ninja Warrior program and the girls gymnastics classes. His favorite event is floor. Chris went to Roberts Wesleyan College on a soccer scholarship and studied criminal justice and business. He competed in gymnastics for 4 years and ninja warrior courses for a year. He likes to pretend his body still works like he is 18.
---
Kathy King is the current owner of Bright Raven Gymnastics. After graduating in 1985 from the SUNY College at Brockport with a bachelor's degree in Physical Education with a concentration in Sports Management, she began working for Bright Raven. In 1988, Kathy purchased the gym. Since the day of purchase, Kathy has worked tirelessly in cultivating the program. Having moved the facility in Gates three times over the past 32 years, adding space with each change of location, her dream of opening a second gymnastics facility has finally come true. The space of the Gates and Victor facilities now culminate to a sum of 54,000 sq. ft.
Kathy's passion has always been working with girls and boys of all ages and levels, though coaching the Tots & Company class is her favorite to teach. While gymnastics is her platform for which to work with the kids, teaching skills and concepts of the sport are only a portion of what she loves about her career.
Seeing gymnasts grow to be confident and intrinsically motivated individuals is what fuels her drive. Her favorite quote by Marc Anthony is this: "Do what you love, and you'll never have to work a day in your life." This quote truly encapsulates who she is, and it is reflected in her continual efforts and positivity in the gym. Kathy is devoted to consistently providing the best learning and coaching environment for both athletes and staff-members. She is very excited to open her doors in Victor as well as re-open her doors in Gates to get back to doing what she loves.